Bed Bug Sniffer Dog Detection
Bed Bug Detection Dogs from SpecialistK9 provide early evidence of bed bug infestation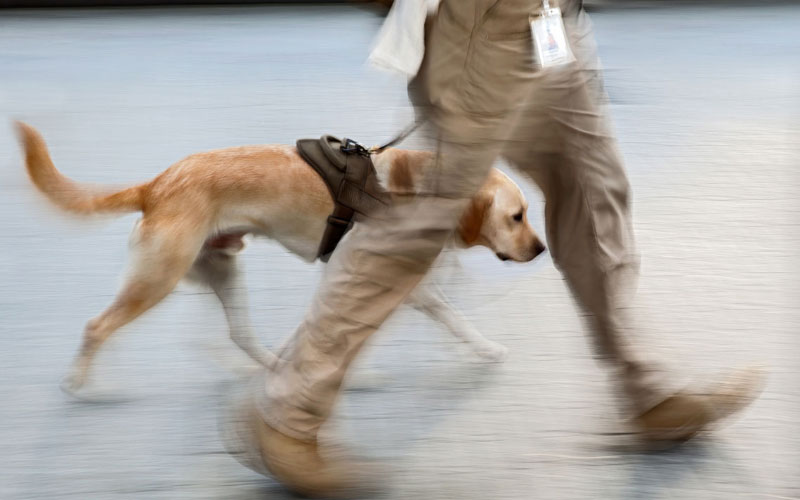 Hotels, hospitals, care homes and universities use trained, approved and vetted bed bug detection dogs as part of their routine maintenance of their facilities and deep-clean schedule.
How do you know that you have bed bugs? Offering minimal disruption and trusted accuracy Bed Bug Detection Dogs are quick and accurate. They can let you know whether you have bed bugs within minutes. For peace of mind and to avoid the expense of heat treatment, bed bug detection dogs don't necessitate leaving rooms unoccupied for extended lengths of time. They work quickly and cost-effectively for you.
If you own a hotel, you know that if a customer suspects a bed bug bite, it can be devastating to the rating scores. A common problem is the volume of online reviews mentioning bed bugs. Arrange for a routine inspection by a Bed Bug
Detection Dog reduces the risk of bites for guests and staff.
Although it is possible to see bed bugs with the naked eye, they are good at hiding. The physical signs and significant problems often don't start straight away. Early inspection by Bed Bug Detection Dogs from SpecialistK9 can prevent problems before the bed bugs have a chance to bite.
Routine inspections reduce the cost of dealing with the spread of an infestation from room to room. We can work directly with you, your pest control company or facilities management team to eliminate bed bugs if we find them. Prompt, swift high heat treatment in all affected areas at once can stop the bed bug problem spreading throughout your premises.
If you would like to speak to our expert Bed Bug Detection Dog handlers at SpecialistK9, then please contact us. Arrange to meet your best detection dog soon.