Detection, Sniffer & Search Dogs Yorkshire
Looking for Sniffer Dogs? Discover the full range of Detection Dog Services and Mobile Security dog patrols anywhere in Yorkshire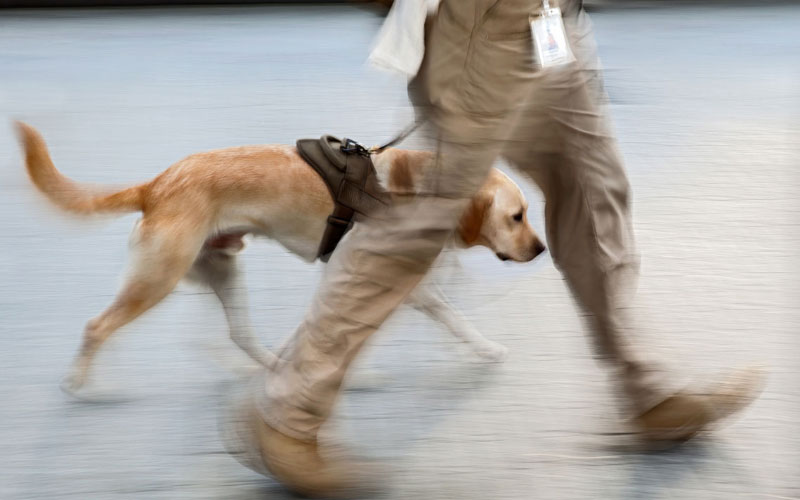 Ask SpecialistK9 for further advice. Feel free to discuss your requirements. You are under no obligation to follow through on your enquiry. At SpecialistK9 we are proud of our professional approach to sniffer and detection dog training. We are happy to share the latest up-to-date procedures and understanding with you.
Providing safe environments for businesses, organisations and charitable events in Yorkshire is a priority for us. The general public and high profile figures – in large crowded spaces – can all benefit from our experience. Businesses know that dog patrols can be useful. Hotel owners with an excellent reputation to uphold can all benefit too.
Consistent and reliable detection dogs make the cost-effective choice. Set them to work detecting people or substances. Trained dogs do their work quickly, with the highest agility and stamina. They cover large buildings and spaces with ease. Confined spaces are no obstacle to the fully trained dogs.
SpecialistK9 best sniffer dog and detection dogs in Yorkshire can work on:
Sniffer Dog Detection of drugs, tobacco, explosives, firearms
Human smuggling detection and other safeguarding search situations
Hotel, hospital and residential bed bug detection
We cover the whole of Yorkshire, from North Yorkshire to South Yorkshire, West Yorkshire to the East Riding of Yorkshire including all areas around Leeds, York, Hull and Lincolnshire close to the M62, A1(M), M1, M621 and M18 motorways.
We look at each requirement carefully. There is no single approach to sniffer dog detection services and security at SpecialistK9. Each dog handler has the professionalism and background expertise to be able to carry out a full risk assessment and safeguarding requirement procedures.
Get in touch with SpecialistK9
Contact the Yorkshire SpecialistK9 team today for their help. Ask for more information about sniffer dog detection work in Yorkshire by telephoning, emailing us or filling in our contact form on this website. The SpecialistK9 Yorkshire dog handlers team can talk to you about your premises or next event and arrange an appointment with you.