Detection and Sniffer Dogs London
SpecialistK9 Detection Dogs and handlers in London work alongside business owners, charitable organisations and enterprises throughout Greater London and the Home Counties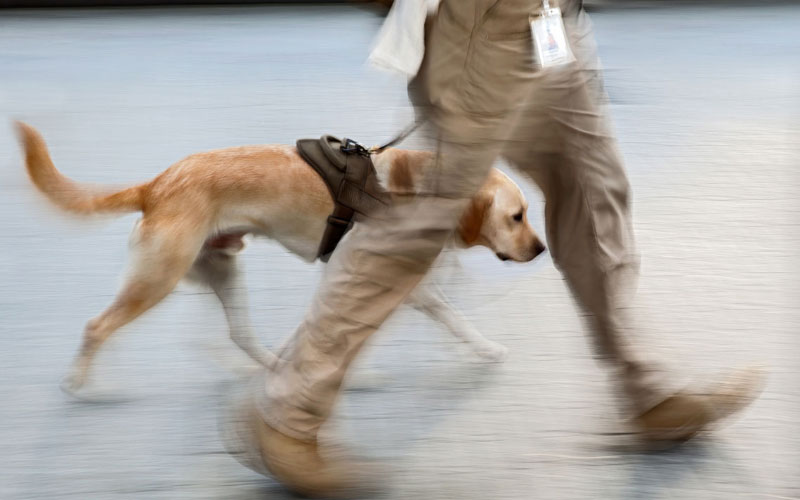 We are happy to support the crackdown on criminal activity and help to put a stop to the illegal sale of drugs, explosives and firearms. Expertly trained dogs go straight to the hiding places, saving time and money during raids. Even when areas of concealment are sophisticated, secure rooms, they are no match for detection sniffer dogs from SpecialistK9.
The Police and Trading Standards responsible for locating illegal products use detection and sniffer dogs. Bringing proceeds of crime hearings to court after successful detection by detection dogs is always an excellent outcome for SpecialistK9. Perhaps you have premises that need additional mobile security patrols? Business owners that schedule a patrol of premises by dogs and handlers know what an effective deterrent to would-be intruders SpecialistK9 patrols can be.
SpecialistK9 detection dogs in London work with handlers on:
Drug Detection, Tobacco Detection
Explosives and Firearms Detection
Human Detection
Patrol Security Support
Hotel, Hospital and Residential Bed Bug Detection
Get expert advice on the precise detection and sniffer dog services based on your requirements. The SpecialistK9 teams in London have the experience you need. We provide professional information and safeguarding procedures for you.
We cover the whole of London and the surrounding areas. Contact SpecialistK9 if you are in Central London, Greater London, the Home Counties, North London, South London, South East London, South West London, West London or North West London.
SpecialistK9 are here to help:
Need a specialist detection dog, security team or sniffer dog team in London? Talk to the people with the track record and experience you can trust. Discuss your requirements with SpecialistK9. Find out more about the units available in London and what they can do to help you secure your project, business or event.